If you have been waiting for the live music experience, the change-your-life religious experience that you know is possible, yet never seems to materialize, this is your show.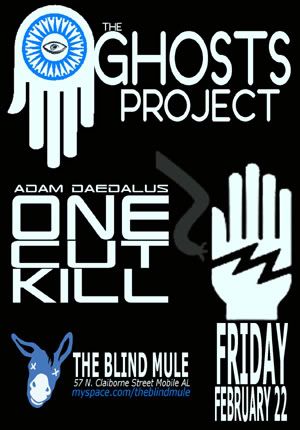 Paul Mercer has an international fanbase as a solo violinist and with one of his many projects, the Changelings; He has just completed a string of sold-out theater dates on the West Coast. This show will draw fans from New Orleans and Florida and other cities within driving distance of Mobile. If you're tired of the same crowd, this your chance to find those new faces from not-quite-so-far-away.
We are all in this scene together; this is a team effort on behalf of we who are trying to bring in eclectic acts and the audience that will participate in these "thinking-outside-the-box" events. I know we all want a constant stream of well-organized shows and unexpectadly-great performers, and things are going very well. We are lucky that things are on such an upturn in this town...
So it is with complete respect for the entire scene that I say this-- The Ghosts Project will be unlike any other show you will see here. There will be the drinking crowd and the party will be in effect, but if you are a fan of music, this is a higher form of art. This is a band that you watch and think "why are they playing here, shouldn't they be..."
The Ghosts Project
(with One Cut Kill)
at the Blind Mule
FRIDAY, Feb 22
10pm
http://www.myspace.com/theghostsproject
http://www.myspace.com/theblindmule
http://www.myspace.com/onecutkill
This weekend is The Ghosts Project, violin, drums, and bass from Atlanta. These three extraordinary musicians with such training and mastery over their instruments is rarely seen at a live local show. The sound ranges from Downtempo/Dub which incorporates loops and echo effects to excited modes from Africa and the Middle East. This group exudes a sensual energy with all the power of an orchestra and the energy between them and the crowd draws you in (instead of pushing away, as the volume and abrasiveness of so many bands does...)